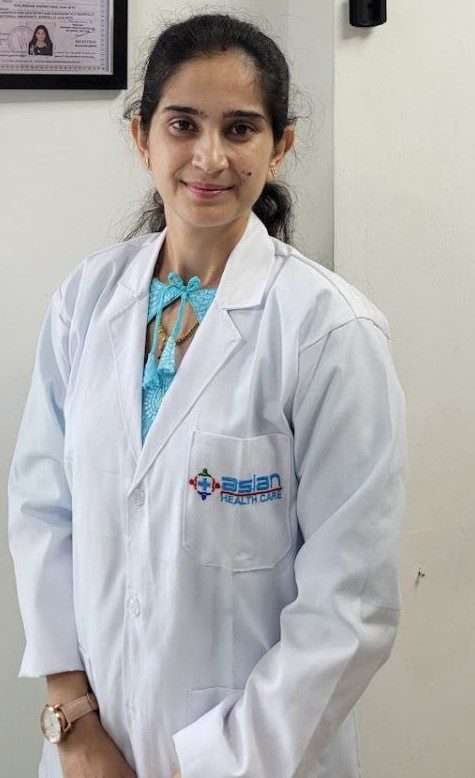 B.D.S, M.D.S, IACDE, MIDA, FCCS
(Gold Medalist)
Welcome to the Best Dental Clinic in Patna
At Best Dental Clinic in Patna, our priority is to deliver exceptional dental care services to our patients. We recognize the significance of maintaining optimum oral health and a captivating smile. That's why our team of skilled dental professionals, including the renowned Gold Medalist Dentist Dr. Aishwarya, is dedicated to assisting you in achieving just that.
As the premier dental clinic in Patna, we provide a comprehensive range of dentist services to cater to all your oral health needs. From routine checkups and cleanings to restorative dentistry, cosmetic dentistry, and orthodontic treatment, our team of experts excels in delivering outstanding care. By staying updated with the latest technology and techniques, we ensure that our patients receive the finest treatment available.
Our dentists are not only highly skilled but also deeply passionate about helping patients accomplish their dental goals. They continuously pursue ongoing education and training to stay at the forefront of dental care advancements. With their expertise, they devise personalized treatment plans tailored to each patient's specific needs and aspirations.
Creating a comfortable and inviting environment for our patients is a source of pride for us. Our state-of-the-art facility is equipped with cutting-edge technology, ensuring a pleasant and efficient experience. As soon as you step into our clinic, our friendly staff will make you feel at ease. We are dedicated to fostering a positive experience and ensuring that every patient leaves with a radiant smile.
Being recognized as the best dental clinic in Patna, we are committed to providing our patients with the highest level of care possible. Our team of experts is readily available to address any inquiries regarding your dental health and provide you with the finest care available. Whether you require preventive care, restorative treatments, or cosmetic enhancements, we are here to fulfill your needs.
We warmly welcome new patients to our clinic and eagerly anticipate helping you achieve a healthy, beautiful smile. Do not compromise on your oral health – schedule an appointment with the best dental clinic in Patna today.
Experience Exceptional Dental Care at the Best Dental Clinic in Patna
Welcome to the premier Dental Clinic in Patna, where you will find the top-notch Dentist in Patna – Dr. Aishwarya. As the highest-rated dental clinic in Patna, we take immense pride in offering personalized care to each patient. Our team comprises highly skilled and experienced dental professionals who provide a wide range of services, including routine dental cleanings, exams, and advanced cosmetic and restorative procedures.
At our dental clinic, we understand the unique needs of every patient. That's why we are dedicated to tailoring our care to meet your individual requirements. From dental implants, an effective solution for replacing missing teeth and restoring your smile's function and appearance, to veneers that correct cosmetic issues like chipped, discolored, or misaligned teeth, we offer an array of services.
Enhancing your smile and boosting your confidence is our specialty. With our teeth whitening services, we can brighten your smile and help you regain your self-assurance. Moreover, we provide orthodontic treatment to improve both the alignment of your teeth and your overall oral health. Using the latest technology and techniques, we ensure successful outcomes for our patients.
Our commitment extends beyond exceptional dental care. We prioritize your comfort and well-being, providing a welcoming environment throughout your visit. We believe that everyone deserves a healthy, beautiful smile, and our dedicated team is here to help you achieve optimal oral health. Schedule an appointment today and discover the comprehensive dental services offered by the top Dentist in Patna.
Cutting-Edge Dental Care: Best Dental Clinic in Patna, Utilizing Advanced Technology
We are committed to being the premier Dental Clinic in Patna by prioritizing the use of state-of-the-art technology to provide exceptional care to our patients. We understand that advancements in dental technology have revolutionized the field, allowing for more precise diagnoses and treatment plans. Our dedication to staying up-to-date with the latest equipment and techniques ensures that our patients receive the highest quality care in a comfortable and safe environment.
As the leading Dentist in Patna, we have equipped our clinic with digital X-rays, an advanced and safer alternative to traditional film X-rays. Digital X-rays emit less radiation, prioritizing the safety of our patients. Additionally, the instant availability of results allows our dental professionals to diagnose and treat dental issues with precision and accuracy.
To further enhance our diagnostic capabilities, we utilize intraoral cameras. These cameras provide a detailed view of the inside of the mouth, allowing our dental professionals to examine hard-to-see areas such as the back molars and tooth roots. By utilizing intraoral cameras, we can detect dental issues at an early stage, preventing the development of more serious problems.
As the Best Dental Clinic in Patna, we take pride in our cutting-edge 3D imaging system, which exemplifies our commitment to using the latest technology for exceptional patient care. This advanced system enables our dental professionals to create a detailed and accurate 3D model of the patient's mouth, aiding in the development of precise treatment plans tailored to their unique needs.
Our dedication to using state-of-the-art technology sets us apart as the Best Dentist in Patna. We continually strive to provide our patients with the most advanced and effective treatments available in modern dentistry.
Experience the difference that cutting-edge technology can make in your dental care. Schedule an appointment at the Best Dental Clinic in Patna, and discover the exceptional care provided by our team of experts.
LIST OF SERVICES AT Best DentAL CLINIC in Patna
Top Dental Clinic in Patna: Transform Your Smile with Dr. Aishwarya's Expertise
Discover the Range of Treatments We Offer
Root Canal Treatment in Patna: Trust Dr. Aishwarya as the Best Dentist in Patna for Quality Dental Care
Best Dental Clinic in Patna: Providing Exceptional Patient Comfort and Convenience
Welcome to Dr. Aishwarya's Dental Clinic, the premier destination for top-quality dental care in Patna. Our commitment to providing exceptional dental services sets us apart as the best dental clinic in Patna. We prioritize the comfort and convenience of our patients, ensuring that every visit to our clinic is comfortable and stress-free.
At our dental clinic in Patna, we understand that dental visits can be daunting for some individuals. To create a relaxing atmosphere, we offer a range of amenities, including comfortable seating, TV screens, and Wi-Fi. Our friendly staff and experienced dental professionals are dedicated to providing personalized care and attention throughout your visit.
We also understand the importance of flexibility in scheduling dental appointments. Life can be busy, and finding time for dental care can be challenging. That's why we offer flexible scheduling options to accommodate your needs. Whether you require a routine checkup or a more complex procedure, we will work closely with you to find a convenient time that fits your schedule.
As the leading dental clinic in Patna, we are committed to delivering the highest quality dental care to our valued patients. Our team of skilled professionals is dedicated to your oral health and overall well-being. Experience the exceptional dental care that sets us apart. Schedule an appointment at the best dental clinic in Patna today.
Premier Dental Clinic in Patna: Exceptional Care by Skilled Professionals
When it comes to selecting a dental professional in Patna, it's crucial to find someone with exceptional skills, expertise, and genuine care for patients' well-being. At our clinic, we pride ourselves on being a leading dental practice in Patna, known for our unmatched qualifications, dedication to providing top-notch dental care, and positive impact on patients' oral health and lives.
Our highly skilled team boasts extensive education and experience in the field of dentistry. We continuously update our knowledge and skills through ongoing education, staying abreast of the latest advancements in dental techniques and technology. Our commitment to continuous learning ensures that our patients receive the most advanced and effective treatments available.
Our clinic is widely recognized as the premier dental clinic in Patna, offering a comprehensive range of services to address all aspects of oral health. From routine dental cleanings and check-ups to restorative procedures, cosmetic dentistry, and orthodontic treatments, we provide personalized solutions tailored to each patient's unique needs. Our clinic is equipped with state-of-the-art technology, creating a comfortable and welcoming environment that prioritizes patient comfort and satisfaction.
What sets us apart is our compassionate and caring approach to patient care. We take the time to listen to your concerns, thoroughly explain treatment options, and involve you in the decision-making process. We understand the anxiety many individuals feel during dental visits and strive to create a safe and comfortable space where you can relax and feel confident in your care.
Our commitment to excellence and patient-centric approach has established our reputation as the go-to dental clinic in Patna. Patients consistently praise our gentle touch, attention to detail, and exceptional results. With a strong focus on preventive care, we empower our patients with the knowledge and tools they need to maintain optimal oral health for a lifetime.
If you're seeking the best dental care in Patna, trust our expertise. With our unwavering dedication, unmatched skills, and genuine compassion, we have rightfully earned our status as the top dental clinic in Patna. Experience the difference of being under our care by scheduling an appointment at our clinic today.
Choose us – your priority for exceptional oral health in Patna.
Our Recognitions and Certifications for Exceptional Medical Expertise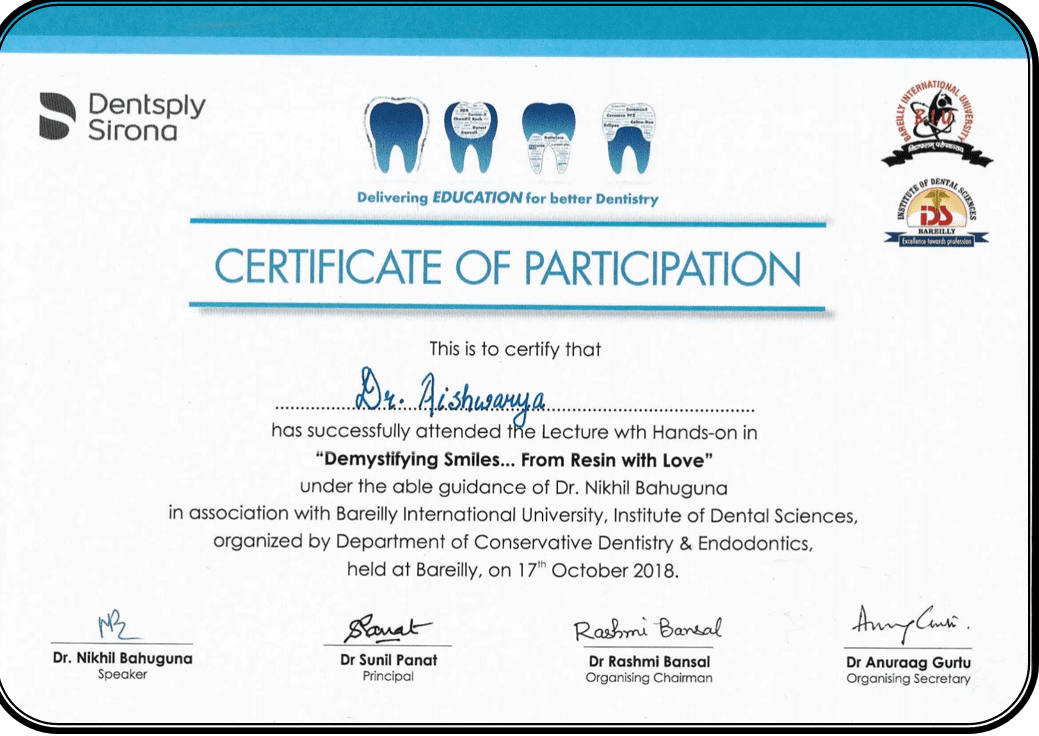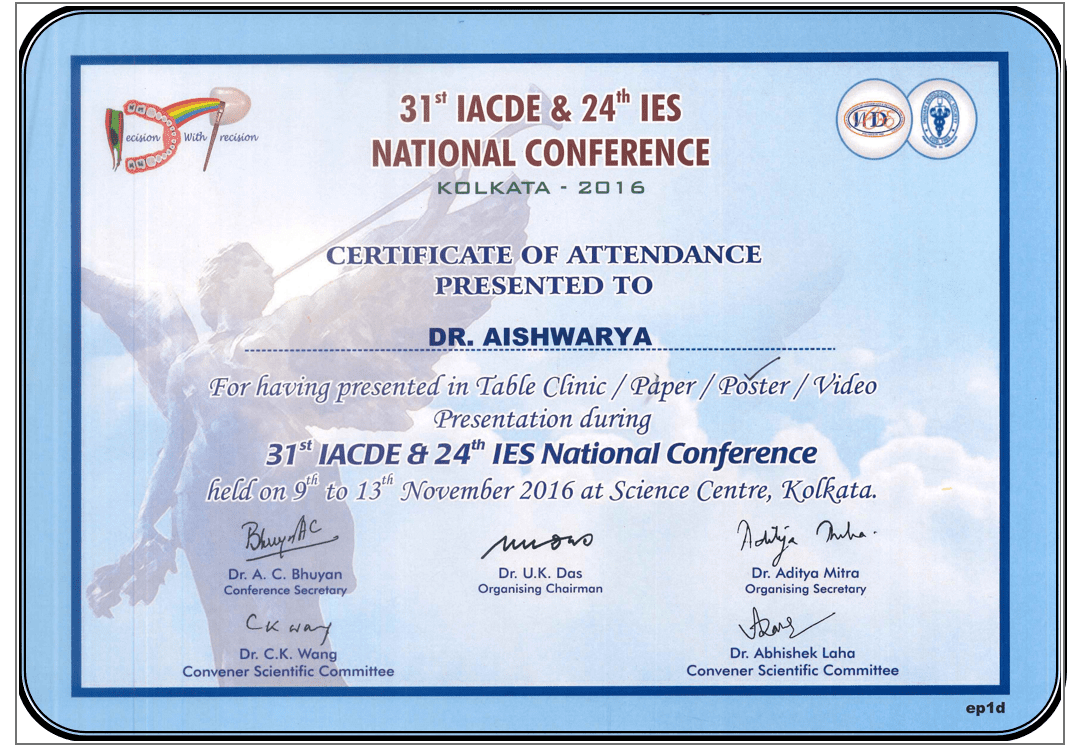 Transform your smile today and schedule your appointment with Dr. Aishwarya, where modern dentistry meets personalized care.
Dr. Aishwarya Commitment to Transforming Smiles and Lives
Patients Share Their Success Stories with Dr. Aishwarya
Very Good and polite doctor
Being an outsider i just read the reviews from the google and visited your clinic for my wisdom tooth extraction. But, Dr.Aishwarya is very professional, experienced, kind and moreover very friendly. Thank you very much doctor especially for painless surgery.
Had a great experience at the Dr. Aishwarya for the painless Root canal treatment and explaining each and every procedure to me. Thnk u Doctor .
I have taken treatment of my teeth , root canal and crown (painless treatment) . All the treatment has been completed by Doctor was awesome. I like the way she is humble, cool and make patient comfortable during treatment. I highly recommend Dr Aishwarya nd her team ….Thank you So much🙏🥰💐
geetanjali singh
18/02/2023
Well explained about the issues, Experienced hand Fully satisfied Must visit
Absolutely wonderful dentist with friendly staff. I am extremely apprehensive going to dentist however,visiting Dr Aishwarya I was immediately put at ease. One of my tooth was chipped off. So I got root canal and she put zicronia crown. Every thing was done to my satisfaction. I would highly recommend Dr Aishwarya for any dental need.
very nice interaction and behaviour. Very helpful in nature
Sushmita Priya
07/02/2023
Dr. Aishwarya is the Best dentist in Patna. Highly recommended for all dental related problems.